How to buy bitcoin instantly with debit card
Want to buy bitcoin instantly? That too with a debit card? Seems unrealistic, right? Not really. It's possible, and today I'm going to tell you how you can buy bitcoin instantly with a debit card in this article. Among other options, https://casherbox.com offers debit card as a payment method, and you can purchase crypto from there immediately using the same. There are some other options too, about which I'll tell you in a minute. But before I start, let me ask you a question here – do you know what are the pros and downsides using a debit card to purchase bitcoin? I understand that some of you don't want to use the credit card, or maybe you do not have a credit card at all. But in case you have one, you should always you the credit card instead of a debit card if you have both of the options. The reason is very simple. A credit card comes with some guaranteed security of your fund. If somehow your credit card data get stolen and your card gets charged by fraud (yes, it happens, and no matter how careful you are, there's always a chance of getting your CC data leaked, especially when using online), you can always chargeback the fund. In case of any fraud, your fund is still secure if you use a credit card. That's not the case if you use a debit card. A debit card is linked with your bank account directly, and if the card data get leaked and some fraud happens, you'll have to bear the loss. That doesn't mean that your debit card has no assurance against fraud charge. However, if the debit card data get compromised, then claiming the lost fund due to fraud is a very time consuming and complicated process and success rate is minuscule compared to the credit card. So, do the right thing and use a credit card if you have one.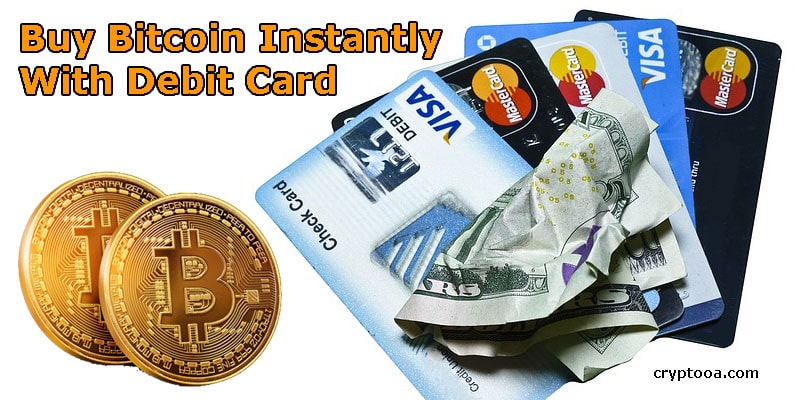 Can you buy bitcoin instantly with a debit card?
Also, buying bitcoin "instantly" and that too with a debit card, do not go hand in hand very well. Especially if you're using a platform for the first time, you can't buy bitcoin with debit card "instantly", period. Because, no matter what exchange you're using, all of them are bound to comply with a minimum KYC verification process due to the regulations imposed by the financial authorities. Most of the time you're required to send an ID document (driving license, passport, health card, etc.) and a selfie holding the same ID in your hand. Some exchanges ask for additional documents (like credit card or bank statement or electricity bill or gas bill) for address verification. You can send the scanned copy or can take a photo of those documents by your phone camera. Once submitted, it takes anywhere from 24 hours to a few weeks before they verify you, provided all the documents are appropriate as per their requirement. Therefore, you can buy bitcoin with debit card instantly, only if you have been registered and verified in an exchange already. But in case you just registered today and want to get your bitcoin as soon as possible, that's not going to happen. Remember, the exchanges which offer debit or credit card as a payment option, they only allow cards which have 3D secure feature. If you do not have such cards, you can apply to your bank to get one with that feature. This security feature is standard in most of the countries, so there's a good chance that your bank or card issuer will have one such card to offer you. So, plan ahead if you know that you'll need some bitcoins soon.